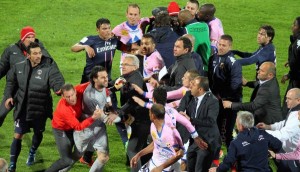 The end of the match Evian-PSG (0-1) this Sunday was not easy. A big fight has tarnished the course of a boring game as a whole.
Already stung by some questionable arbitration decisions during the game, Parisians and Savoyards began to fight at the final whistle.
The Tunisian Saber Khlifa in the scrimmage was expelled, as the Parisians Veratti, Sirigu and Beckham.
[youtube]http://www.youtube.com/watch?feature=player_detailpage&v=fjWsX8M8CEg[/youtube]