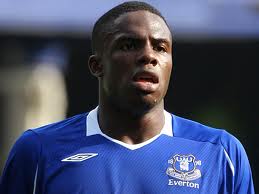 Everton attacker Victor Anichebe has revealed that he will take an immediate break from international football.
The Nigeria international's performances of late had resulted in him being linked with a place in the squad for June's World Cup qualifiers and the Confederations Cup in Brazil.
However, due to the number of injuries that he has suffered over recent years, the 25-year-old believes he owes it to the Toffees to ensure that he is in good shape for pre-season training.
In an interview with the BBC, Anichebe said: "The best thing for me at the moment is to focus on club football. Without club football, there is no international football and everyone at Everton was with me every step of the way during my injuries and rehabilitation and so I owe it to the club to manage myself correctly."
"I didn't feel that the Nigerian Football Federation was there for me then in the same manner, which was especially disappointing given that I got the injury representing my country."
"I don't blame anyone for this nor do I have any issues with anybody from the NFF or Stephen Keshi our coach. He has done a fantastic job and is building a team that Nigerians can be proud of. "
Anichebe last represented the Super Eagles back in 2011 and being a former England youth international; he switched allegiance and played his first game for Nigeria in March 2008.
He scored on his debut in a 2-0 win over South Africa to help them reach the 2008 Olympics and was then part of the squad that went on to win silver in Beijing.
Despite the recent setbacks and decision to put club over country, Anichebe has no regret to have chosen Nigeria over England.