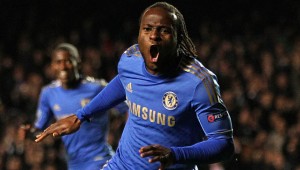 Victor Moses is really having fun in Chelsea and definitely like the Europa League. The Nigerian striker has been involved in the nice performance of Chelsea this season in this competition. Already scorer in the first leg, Moses recurred again on Thursday in the semi-final against Bâle.
The English club won 3-1 at Stamdford Bridge taking the total of the two games to 5-2. The Egyptian Mohamed Salah yet allowed Bâle to go to the break with the hope to return to this game.
But after the break, the Blues took control of the game. Fernando Torres scores before the second goal of Moses. The latter will be later imitated by David Luiz author of a nice goal into the top corner of the Swiss goal.
Chelsea qualified for the final of the Europa League can hope to achieve the double on May 15 in Amsterdam. After winning the Champions League last year.