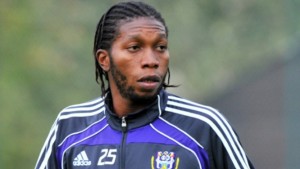 This is what shows on Wednesday our Belgian colleagues of Sport / Foot magazine. Dieumerci Mboakni is now the prime target of the UEFA anti-doping controllers. The reason: the Congolese striker missed two controls at Anderlecht following the negligence of the club.
Once while returning from a game with the Congolese selection, brand new Belgian champion had to go to the hospital to ask a mask due to a broken nose. Controllers of UEFA were passed to the training of Anderlecht center. The second time, the leopard had to go to the bedside of his sick son and missed a new control. As UEFA requires that steps be taken by the clubs to allow their controllers do their job.
If Anderlecht and physiotherapist, guilty of negligence, already sentenced to fine Mbokani him  should expect controls more random even in his new club. He who is leaving.