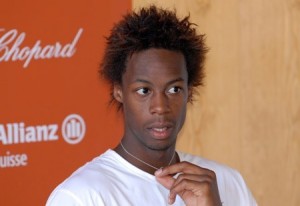 The men's draw at Roland Garros in 2013 was unveiled.
Gael Monfils fell on a large piece in the first round. In his first match, the Guadeloupian will face the Czech Tomas Berdych, World No. 5.
The Caribbean has received a wild card from the organizers of Roland Garros to participate in international competition of France. The Tricolor fells back beyond the 100th place in the world due to a variety of physical problems.
Gael Monfils reached the semi-finals of the 2008 edition, and the quarterfinals in the 2009 and 2011.
And three days before the beginning of the international Roland Garros Monfils qualified Thursday for the semifinals of the ATP tournament in Nice. The Caribbean tennis player showed a great strength to win in two sets against the Dutchman Robin Haase (6-2, 6-3).
This Friday, he confronts the Spanish Pablo Andujar. Auspicious in any case after his convincing victory in Bordeaux challenger tournament last week for Roland Garros. An event that is very important to him and that often successful.