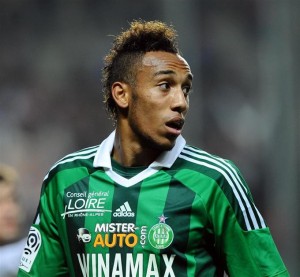 Pierre-Emerick Aubameyang and Saint-Etienne hope a beautiful end of the season in this Sunday trip to Lille. But it is the destination of the Gabonese striker that took center stage. In an interview with Pravda, Aubame evokes this bluntly, including the provision of Samuel Eto'o and Anzhi.
"Am I playing my last game with Saint-Etienne? It seems that everyone is worried about my future. Even I do not know! Let's play first, we'll talk later! Qualify Saint-Etienne for the Champions League, it is a possibility (…) we can win in Lille. But hey, for that, we should not put pressure. A draw might even allow us to maintain the fourth place (…) the bar of 20 goals does not work me more than that. It would be symbolic. 20 is a round number. I like. But if I am at 19, it would be not bad. Do not worry; the end will be beautiful with a win and a goal. 22 is good too, right?
Qualifying for the third round of the C1 could make me not to leave, it is possible. We'll see if other clubs call me. Everyone sends me elsewhere thinking that I received tempting proposals and I made my choice. This is not yet the case. I'm in Saint-Etienne and happy to be there. At the point of staying? We'll have to talk about it. Everything will be based on a discussion with my leaders (…) I hope it will be decided soon. I did not want to trail around. Resume with Saint-Etienne and then get transferred later would not be terrible.
Where would I go? Maybe in Germany or England or Italy. PSG? You want me to stay in France, right? This possibility exists. Should I therefore await any concrete offer! That Anzhi Makhachkala makes me think a lot. But I want to emphasize the sporty appearance. It is not in my view to go and play now p in clubs like that or Russia. In retirement, you never know. Meanwhile, I still have two dreams: to play the Champions League and one day play for Real Madrid. I'm sure I'll be able to fulfill them. "