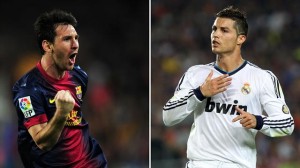 They are know in the soccer world. We know their rivalry on the football lawns. They are basically the two best of their generation.
They will now continue their rivalry in the dictionary. After entering their name in the pantheon of football, the highly gifted Lionel Messi arrives in the Robert alongside his eternal adversary, Cristiano Ronaldo.
The names of the Portuguese and the Argentine are part of the new proper names that the "Robert illustré" has integrated into its pages for the new 2014 edition. "Le Petit Robert" and "Robert illustré" will be available from May 30.
The two men, rivals in La Liga, are subjected to all the fantasies of the football world.
Cristiano Ronaldo, 2008 Golden Ball and Lionel Messi quadruple Golden Ball are simply the best two who are driving crazy the football world now. Evolving in the two best team in the world, Real Madrid striker and that of Barça are also the highest paid and most mediatized players.
We remember that the verb "zlataner" was entered in the Swedish dictionary at the beginning of the year. Messi and Ronaldo will make their entrance after "panenka", "Madjer", "Higuieta" or "Arconada" which is defined as a reminder of: the Spanish Luis Arconada (origin: circa 1984) – missed intervention of the goalkeeper who didn't react to a safe shot that passed under his body. Syn. : Blunder, dumpling, canvas.