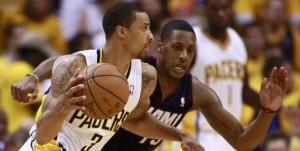 Indiana remains in the shoes of the Heat. Dominated in all compartments in Game 3, Ian Mahinmi (2pts, 1rbd, 1ct in 7 minutes) and his teammates have closed the ranks to equalize with two victories over Miami.
With Roy Hibbert (23pts, 12 rebounds [including 6 offensive]) MVP of the game, Indiana has won 99-92.
With 22 points, LeBron James tried to keep the Floridians in the game. But the money-time, the 2013 MVP will be out of race for a offensive fault, synonymous with his sixth foul in the game. He assists from the bench the defeat of his people.