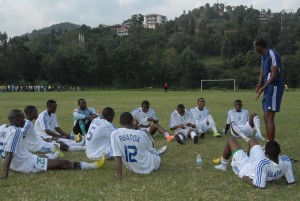 Assistant then coach instead of the Serbian Milutin 'Micho' Sredojevic, Eric Nshimiyimana unveiled the list of 22 Amavubis of Rwanda that will travel to defy Mali during the fourth day of the qualifying for the World Cup Brazil 2014. A selection made public following an internship in the north of the country in Gisenyi.
APR snatched the place of Lion despite its third place at the end of the championship. The champion club of Rayon Sport has not been rewarded. Only three players are in the 22 selected!
This selection will also compete in the local CHAN in 2014. In the first leg at the Amahoro Stadium in Kigali, Mali had beat Rwanda 2-1.
With 1 point in Group H, Rwanda is already out of the race for the qualification for the World Cup in Brazil.
Goalkeepers
1. Jean Claude Ndoli (APR FC)
2. Mutuyimana Evariste (Police FC)
Defenders
1. Nirisarike Solomon (Royal Antwerp)
2. Bayisenge Emery (APR FC)
3. Ngaboyisibo John Bosco (APR FC)
4. Abouba Sibomana (Rayon Sport)
5. Usengimana Faustin (Rayon Sport)
6. Rusheshangoga Michel (APR FC)
7. Nshutiyamagara Ismail (APR FC)
Midfielders:
1. Twagizimana Fabrice (Police FC)
2. Jean Baptiste Mugiraneza (APR FC)
3. Iranzi Jean Claude (APR FC)
4. Mushimiyimana Muhammad (AS Kigali)
5. Buteera Andrew (APR FC)
6. Niyonzima Haruna (Yanga FC)
7. Sibomana Patrick (Isonga FC)
8. Hategekimana Aphrodis (Rayon Sport)
Forwards:
1. Karekezi Olivier Son (CA Bizertin)
2. Uzamukunda Elias (Cannes)
3. Medie Kagere (Police FC)
4. Peter Kagabo (Police FC)
5. Ndahinduka Michel (Bugesera FC)