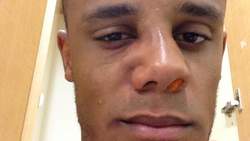 A hero! As Africa Top Sports reported this weekend, the Belgian player had a very violent contact with the Serbian goalkeeper Vladimir Stojkovic in the first period during the qualifier for the next World Cup football – 2 goals to 1 for Belgium –
"He smashed the nose", Marc Wilmots admitted after the game.
On Twitter, Vincent Kompany was amused after regaining his senses: "What wouldn't we do for our country?"
As an exemplary captain, Vincent had finished the game. He was hospitalized after the meeting.
He had spent the night under observation at the Saint-Martin Clinique of Malines. He played with a broken nose with displacement, crack orbit and a (mild) concussion.
"Vincent has left the Clinique on Saturday morning at 10 am," said the Belgian Football Union (Belgian FA).
The player has forgotten almost everything of his shock! "I do not really know what happened. I have to review the images to get an idea …"
"Vincent Kompany is a hero." Today, a Facebook page was created in honor of the brave Belgian captain! And he already has 62,000 fans
We also learn that he took insane risks: a stroke, especially
Vincent Kompany has joined his wife and daughter in Manchester.
"I think Vincent deserves a statue. His image was more to do but he showed he was willing to sacrifice for the honor of Belgium, "concludes Peter, his dad.