Andre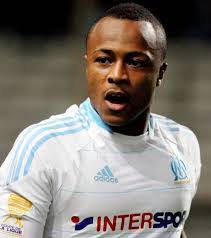 Ayew has expressed his desire to play in the Premier League.
The striker scored nine goals in 35 League 1 games last season as the southern France outfit claimed the runners-up spot, 12 points behind winners Paris Saint-Germain.
However, speaking to Telefoot on Sunday morning, the 23-year-old was open about his enthusiasm for the Premier league, strongly suggesting that he would accept an offer from an English club if one arrived this summer.
"It's a league I always think of," the Ghanaian international acknowledged.
"I am Ghanaian and an English speaker, and the English league is the one most watched in Ghana. I have a strong preference for England. I am not seeking to leave but, if interested clubs have the number of president Labrune…"
Ayew, who was named BBC African Footballer of the Year in 2011, also spoke of his affection for Liverpool, the club he supported since he was a child.
"As for Liverpool … yes, I have followed them since I was young," he noted.
Ayew is still in contract with Marseille until June 2015.