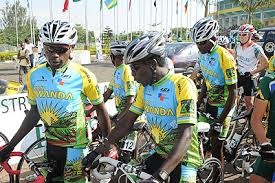 Bonaventure Uwizeyimana won the 2013 Genocide Memorial race organized by Rwanda Cycling Federation, the National Commission for Fight against Genocide (CNLG) and Rwanda Government over the weekend.
The Rwanda Team rider Uwizeyimana finished in the first place the 107 km race in 2h 47min 25s on Saturday.
The competition gathered 45 riders, 35 in men's category and 10 in women's category.
This competition was organized in the memory of some of the riders who lost their life during the 1994 Genocide against Tutsi among who we have Edouard Gasinzigwa, Theophile, Kayumba and Kayibanda, Ariette based, Francois Musoni, Ancelime Sakumi, former vice chairman of the Rwanda cycling federation and Gasato who was the national team member.