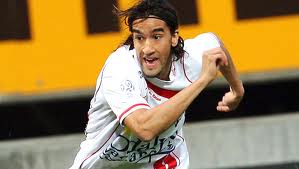 Free agent following the termination of his contract with Al Arabi for non-payment of wages, Youssouf Hadji is now interested in Nancy, his former club.
"The Nancy team knows I'm interested in the challenge of returning to play the rise in L1. This is my club, this is my home. Financially, I can find it elsewhere, but I'm willing to make efforts for Nancy, "relegated to Ligue 2, assured the Lion of the Atlas.
"We'll see how things develop in the knowledge that the situation of the club is not easy. I understand he needs to sell the club to be able to recruit. If ASNL sells, we will discuss. I do not want to put pressure on ASNL. I will calmly analyze the proposals that I get, and if Nancy wants, we will study it all together, "he has calmed down.
The season was not pink as wanted the former Moroccan international. 8 games for four goals and three assists, the brother of Mustafa almost past the worst moment of his career. In France, he scored a total of 57 goals in 255 games from 1998 to 2003 and 2007-2011 on behalf of ASNL.