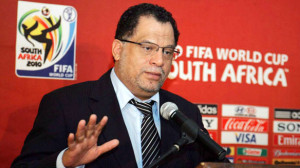 Danny Jordaan, Vice President of SAFA (South African Football Association) was appointed as the adviser to Issa Hayatou, President of CAF (Confederation of African Football). This is revealed by the South African authority on his official website.
"We wish you every success in your future activities within CAF and CAF President welcomes the creation of a very constructive and fruitful collaboration with you", reads the letter sent by continental institution to Mr. Jordaan.The latter did not fail to indicate his enthusiasm: "I am humbled by this great honor to be an adviser to the president of CAF. It is nice because I'm used to both CAF and FIFA in the same capacity. I want to contribute positively to ensure that our CAF President Issa Hayatou leaves a lasting legacy in particular on the international football ".
Danny Jordaan was particularly a great architect for the realization of the 2010 World Cup in South Africa.
He is also currently an advisor to FIFA for World Cup 2014 in Brazil.