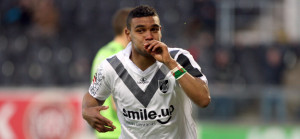 The Algerian international Soudani in a long interview with our fellow Site Le Buteur, spoke about his first steps in his new Croatian club Dinamo Zagreb and his ambitions. Great admirer of Chelsea and its coach Jose Mourinho, El Arbi Soudani expressed his desire to play for the English club.
"Ever since Jose Mourinho took the Chelsea team in 2004, I have followed this team. Before, I had no favorite club, but the style of play of Chelsea got me hooked, and the personality of Mourinho. It was at this time was born my admiration for Didier Drogba. You know, I have a crazy dream: to one day play for Chelsea. At least, this is a dream and a hope. We have the right to dream, right" he said.
The Algerian is also back on the criticism he has been subject to after the match against Benin (2014 World Cup qualifiers). Accused of having missed several scoring opportunities, Sudani defends himself.
"I saw the referee raise his flag and that's why I shot lamely. Moreover, the television images show that I hit the ball and I turned away, without even seeing if it returned or not, proof that I had seen the flag up. If I had wanted, the ball was there. But they gave me a trial accusing me of having missed too many opportunities, "said the player.