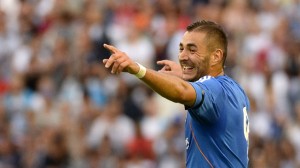 After its victory against PSG 1-0 last Saturday, goal scored by Benzema, Real Madrid won 3-1 against the Los Angeles Galaxy as the Africa Top Sports.com reported this morning.
Karim Benzema scored a particularly pretty double when he got on the field in the second half (51) and (75). The Argentinean Isco had opened the scoring in the 15th minute.
The goals in video…
Real is now awaiting the arrival of Gareth Bale.
On August 4, the club of Ancelotti-Zidane will face Everton in the semi-finals of this International Champions Cup.
[youtube]http://youtu.be/578ISLMCfXM[/youtube]
[youtube]http://youtu.be/uNoghppe2XM[/youtube]