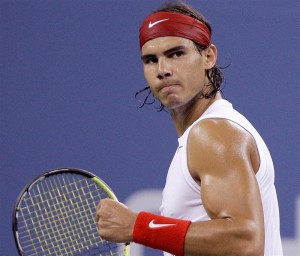 That night in Cincinnati, Roger Federer and Rafael Nadal offered a beautiful sight in the quarterfinals of the Masters. It was the 31st duel between the two rivals. The Spaniard won his opponent in three sets (5-7, 6-4, 6-3).
And yet we seemed to see a Roger Federer back to his best level. An attitude that contrasts with his early eliminations in many tournaments in recent weeks. The first set demonstrated with Switzerland that distills a few strokes of which he has the secret. But it is the tiebreaker that handled the final decision.
He continued in the second set but the Spaniard produced a terrible acceleration between the end of the second set and the beginning of the third to align five games and two breaks, the first offering him the win of the second inning, the second allowing him to make the decision in the third.
In the semis, Nadal will face Tomas Berdych. While the other half will oppose Isner, who defeated Djokovic to Del Potro.