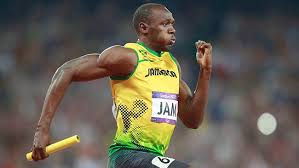 New triple in global athletics Competitions for Usain Bolt. After the Olympic Games in Beijing in 2008 and London in 2012 and the World Champs in 2008, Usain Bolt did it again in Moscow.
After the 100 and 200m, the Jamaican athlete concluded the fortnight of the World in Russia with gold on the 4 × 100 relay with his compatriots Nesta Carter, Kemar Bailey-Cole and Nickel Ashmeade.
A race dominated in 37s 36 ahead of the United States and Canada. After the race, it is Britain which was in bronze but ultimately disqualified.
With this new triple in the World, Bolt harvest his eighth gold medal and joined the Americans Carl Lewis and Michael Johnson in the palmares of the world championships. Bolt now totalizes now 10 medals as Lewis.
At only 26 years, Bolt nicknamed "Lightning" should improve this table in two years at the World in Beijing and the Olympics in Rio in 2016. So we will still hear the name of Usain Bolt.