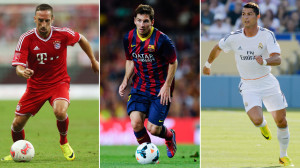 The "King of Europe" will be known on Thursday on the sidelines of the draw of the Champions League in Monaco. They are three vying. The Portugese Cristiano Ronaldo of Real Madrid, the Argentinean Lionel Messi of FC Barcelona and the French Franck Ribery of Bayern Munich. Three players whose season has been praised by journalists and captains of the Old Continent.
But only one will be awarded on Thursday. Favorite, Franck Ribery, author of a triple Championship-Cup-Champions League last season with the Bavarian club. Of these three events, the French was very important for his team.
Ronaldo absent from the ceremony!
Lionel Messi finished again top scorer in la liga and won the Spanish League with FC Barcelona. He was one of the three finalists last year but saw the title awarded by his teammate Andrés Iniesta among the Catalans.
Other finalist last year was Cristiano Ronaldo. The Portuguese finished second top scorer in La Liga and runner-up in Spain with Real Madrid. He also failed in the semifinals of the Champions League against Dortmund and could win la copa del rei against Atletico Madrid. Very unlikely that he wins the trophy.
Ribery too!
In Monaco, the event will suffer from the absence of two winners. Cristiano Ronaldo should be absent to believe the newspaper AS. The player will participate Thursday in a friendly match with his team against the Deportivo Corogna in the Teresa Herrera Trophy.
The favorite for the title also should not be there. Franck Ribery is preparing with Bayern Munich the European Supercup Friday against Chelsea. And round-trip Monaco – Prague where the match will take place is not possible for Pep Guardiola.
Who is your favorite?