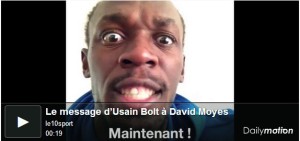 The defeat of Manchester United in the shock that had opposed them to Liverpool remained indigestible for the supporters.
Fan of Manchester United, the six-time Olympic champion and eight-time world champion, holder of three world records: 100 m (58 9 s), 200 m (19 s 19) and 4 × 100 m (36 s 84), Usain Bolt did not except.
The Jamaican even presumed to give a serious lesson to the Reds Devils coach David Moyes.
Video!
[youtube]http://www.dailymotion.com/video/x142swh[/youtube]