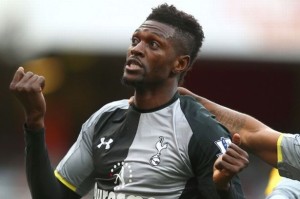 Emmanuel Adebayor not convened to the meeting DR Congo Togo – September 8 is still in Lome. The Togolese star responded Saturday to questions from our colleagues on Radio Frequency 1 . In particular, he discussed his future at Tottenham when the transfer market has prompted a number of rumors about the Togolese striker. Transcript of the editorial.
How's it going on between you and Tottenham?
It's going very well and you? (laughs). You know in the life of every footballer there are always ups and downs but I 'm not complaining, thank you God. You know all started well in the preseason. We flew to Hong Kong for the course and there I learned the news of the death of my brother. So my morale took a hit. So I went back for the funeral. I had a very difficult time after. When I went back to Tottenham, I talked to the coach and he told me that I was not ready yet for the pro group. I had to go to work in reserve for two to three weeks to regain my confidence, my sense of goal, etc… And I complied with his advice. That's why I 'm still not on the bridge at the beginning of the season.
Was it a punishment from manager Andre Villas- Boas?
Not at all. I 'm not at a training center to get punished by my coach. There has been no argument; I did not hit him either so I do not see why he will punish me. It 's been 11 years I have been practicing professional football so as I was saying earlier, my brother 's death was a blow to me in recent weeks, but since I found my spirits. I'm going back to London in a few days and I will find my feelings and my place in the group. God willing, I will be able to enjoy my pleasure, my family, those who love me, etc. . . .
So during this time, Tottenham has made big moves on the transfer market. Does this worry Adebayor ?
No more than that. I keep repeating. I am a footballer who loves competition, challenges. Remember when I signed in Monaco in 2003-2004, there were big names like Guily , Saviola , Prso , Nonda , Morientes. But that did not bother me. I stayed, I did my thing. If I could not I would have stayed at home to play Etoile Filante in Lomé. I'm a competitor; this is what allows me to give the best of myself. At Arsenal, there was Bergkamp , Henry and Van Persie before me but I snatched a place. At Tottenham, there was already Defoe for years. Today, there are Soldado who is a very good player, I respect also much. Then I hope he will score many goals for the team. But the competition is there for me to become imperative. And as they say you have to go slowly as it is not a sprint but rather a marathon. We'll go slowly and see what will happen.
What place is booked for Adebayor in the hierarchy of Tottenham's strikers today?
There are stats that speak for man in football. Today I will not tell you that I 'm stronger than Soldado or Defoe or Lamela. Type in google you will see the goals I've scored in my career and what he has also achieved. So me I do not watch all these considerations. I know what I should do and what is on the ground. At the moment and I repeat, the death of my brother was a heavy blow. God thank you I'm fine now. We are now 4 in the attack, I do not know who ranks first, second or third but I know at the end I will be the first and it is the most important.
People announced you in the last hour of the market to Schalke 04. Has Emmanuel Adebayor ever thought of leaving Tottenham ?
No (categorical). You learned about Schalke 04 because it was in the press, but there were many clubs that fancy me and whose proposals were still on the table. But I decided with my manager, even before the start of the transfer window that I would not leave Tottenham and that's what I did. I have never thought of leaving the Spurs. I am here, my family feels great here and I do not see myself in another city.
You want to take revenge on your last season (8 goals in 34 games)?
Not at all. Two years ago, I was top scorer and best passer of the club. Last season was not great, it is true. I believe that apart from Ronaldo and Messi who are above the lot and every season concatenate goals, everyone blows less good. I do not want to relive this season but no revenge or anything. I have no revenge, I just want to play my football, have fun and then nothing. This year, I have not started yet but get assured that when I start it will be very hard.
Has the departure of Gareth Bale changed anything in Tottenham?
This does not change anything. He is a very good player. Last year was a great year for him. He fired in skylights to each flask. But it was seven seasons since he was there and it was high time he achieves a very good season and it was last year. Now he will play for the biggest club in the world and I wish him much success.
Could Adebayor leave Tottenham during the season ( January, for example ) ?
No (still categorical). I stay until the end of the season.