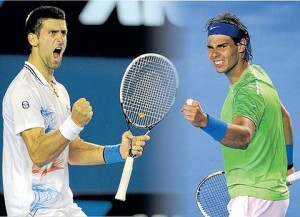 What a match! Novak Djokovic won his place in the final at the U.S. Open, but it was hard! The Serb beat the Swiss Wawrinka in five sets (2-6, 7-6, 3-6, 6-3, and 6-4)…
The world No.1 will play his fourth final on Monday against the Spaniard Rafael Nadal (No.2) who defeated the French Richard Gasquet (N.8): 6-4, 7-6 [1], 6-2 in 2:21 '
It will be the 12th final of his Grand Slam career!
He told L'Equipe:
"Already I want to say again: Wawrinka was the best for most of the match because he was aggressive and played the best tennis. I've just done everything to stay in touch, to fight and to continue to believe I was going to win. Honestly, I thought as the game lasted more than I had a chance to take advantage physically and the fact that I would have a little more confidence because I've lived this kind of experience. At the beginning of the game I was really nervous…
Yes I was nervous but somehow it's still normal to have this kind of feeling in the semifinals of a Grand Slam tournament. (…) I could not find my rhythm and I was frustrated. I did not hit the ball well; I was making a lot of unforced errors. I wanted to be aggressive, but I went all the time to the fault. It was one of those days where even if you do not feel well on the court, you must stay strong and believe. Mentally this game will help me, and I am physically well before this match because I had not spent much time on the court and I have the time now to recover.