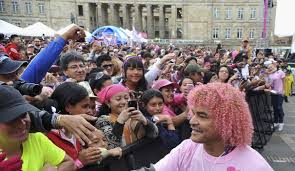 Famous midfielder of the 1990s Carlos Valderrama, old glory of the Colombian football, identifiable by his blonde hair dyed them for a good cause.
The former player of Montpellier and Real Valladolid, among others, participated in a parade in the fight against cancer on Sunday in the streets of Bogota. For this purpose he takes part in the march, organized by an association. Dressed in a pink t-shirt, Valderrama, also colored his hair in pink.
"El Pibe" who played three World Cup with Colombia (Italy 1990, USA 1994 and France 1998) has been highly acclaimed by the people. "This is a terrible disease, but it can be prevented if women and men, we are committed to always do self-examination and medical checks. It is a portion that we can win, "said the player whose sister and several relatives have suffered from breast cancer.