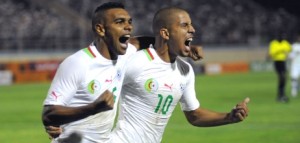 In closing of the sixth and final day of 2014 World Cup qualifiers, Algeria defeated Mali on 1-0. The only goal of this game that came into effect at the 51th minute thanks to Hilal Soudani.
The Fennecs, already qualified for the dams before the meeting, took the opportunity to prepare the forthcoming of these playoffs.
The draw of the dams will be made on September 16. Algeria is found in Pool 1.
Video of the goal of Sudani
[youtube]http://youtu.be/5lROiPsH8kk[/youtube]