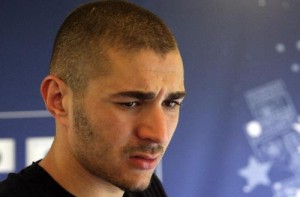 France will play well the playoffs to compete in the next World Cup in Brazil ! But it suffered much last night!
Led twice to the scoring, France of Deschamps finally got imposed by 4 goals to 2 in Belarus in the World Cup qualifier! A crazy, crazy, crazy game!
Note that Karim Benzema who was widely criticized since his silence in front of goals for nearly 14 games, did not play! And suddenly, France finally came away with three points! So he is the problem of the Blues?
Samir Nasri had enabled the Blues to take the lead in the 70th and Paul Pogba in the 73rd to ensure the victory of the Blues.
But it was laborious! Hugo Lhoris, the guardian of the Blues was holed twice: in the 32nd minute goal by Egor Filipenko and 57th, Kalachev goal.
An evening that the French porter will forget as quickly…
Franck Ribery had equalized from a penalty in the 47th minute – The fault was whistled against him before scoring a second goal in the 64th that allowed France to return to restore parity.
The coach of the Blues chose to tenure Olivier Giroud at the peak of the French attack instead of Benzema .
France has also terminated its sad record of 500 minutes without a goal!