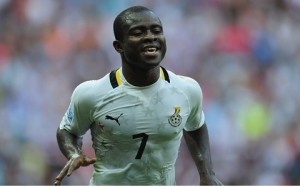 Black stars forward Frank Acheampong has admitted he is very calm despite the Black Stars tie with the Pharaohs of Egypt. Acheampong has also advised the Black Stars players to remain calm because even though some admit Egypt is a tough side he sees  nothing wrong with the tie because wether Egypt or no Egypt, the Black Stars will surely get to the 2014 World cup.
Ghana will host Egypt in the first leg before travelling to face the Pharaohs in the crucial return encounter. The tough tie has raised anxiety amongst many Ghanaian soccer fans especially with Egypt's superior record against the Black Stars. But winger Frank Acheampong is calm over the draw but says the Black Stars must aim at getting goals in both legs in order to qualify. "For us the players, there is no anxiety but I understand this is football and anything can happen," he told Metro FM. "It is only important we get to score goals wherever we play the match to help us qualify." Egypt remain the only side with a 100 percent record in the series ahead of the clash against Ghana.
The Black Stars will be at home in October before hitting the road for the second leg match a month later.