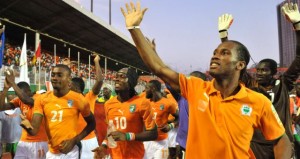 The leaders of the Ivorian Football Federation (FIF) feel a certain lack of supporters for the Elephants of Côte d'Ivoire since the defeat in a friendly against Mexico (4-1) and especially the draw against Morocco. All these while Ivory Coast will once again face Senegal, but this time in the context of dams for the 2014 World Cup qualification. No way to get discouraged, consider the IFF, which relies on the unconditional of the Séléfanto.
"We call on Ivorians to mobilize around the national team. There is a lot of concern after two matches of the Elephants. But be aware that it is important to qualify for the World Cup, "suggested the first vice-president of the governing body of the Ivorian football, Sory Diabate. "Everyone must unite around Ivory Coast for a successful qualification. We have our chances", he hammered a sign of mobilization.
The first leg Ivory Coast-Senegal is scheduled for 12 October in Abidjan.