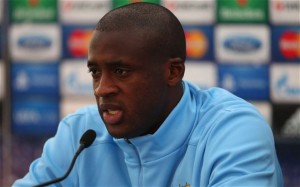 At this rate, it is unclear how the title of the next "African Golden Ball" could escape him. Already two times "Best Player" of the continent, Yaya Toure confirms his talent every day hitherto somewhat neglected. The Ivorian midfielder already at this beginning of season what we can call the hit of the summer.
Mr Manchester City!
One could almost say that without him, the Citizens cannot play. Because even when they make a turnover of staff and he starts the game on the bench, in the end he finally enters. And each time he is productive. Already author of four goals in all competitions this season, Yaya Toure is the "Sir Plus" of Manchester City.
This is once again on Tuesday during the English League Cup. Substitute, the former Barcelona player got in at the break and immediately proved indispensable. Especially on his latest hobby: the free-kick.
Senegal very worried!
A first resounding against Newcastle during the first day of the Premier League, a second two games later in the same competition, and a cannon sounding cleans the window in the Champions League, Yaya Toure will not stop. On Tuesday, he again proved that he has added a new range to his game. Since he is already scratching at the feet of opponents over 80 balls per game.
With an almost disconcerting ease, he lives again a splendid free-kick into the top right corner of the goal of Wigan which also had a nightmarish evening. 5-0 for the Citizens.
With less than three weeks before the first leg of the 2014 World Cup dams, Touré who will face Senegal with Côte d'Ivoire must give cold sweats to fans of the Teranga Lions.
See all goals against Wigan including his free-kick!
[youtube]http://www.youtube.com/watch?feature=player_embedded&v=5bVGeVpP95I[/youtube]