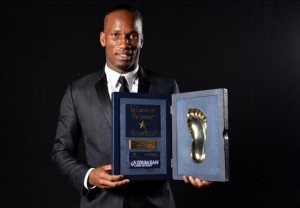 The Ivorian Didier Drogba was elected Wednesday night in Monaco 2013 Golden Foot . A reward for players over 29 years still active and contribute to the development of football.
Drogba was the most acclaimed in the number of votes and therefore ahead of other names nominated for the prestigious award. Galatasaray striker was ahead of Ronaldo, Iniesta, Eto'o Casillas…
Last year, it was the Swedish Zlatan Ibrahimovic who received this award.
Former players have also received the Golden Foot Legend prize. This is the French Jean-Pierre Papin, the Colombian Carlos Valderrama and Argentinean Osvaldo César Ardiles.