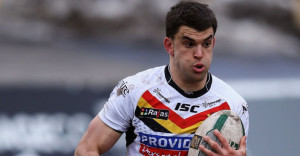 Great performances always lead to extensions!
Wales winger Elliot Kear who has impressed since joining the Bulls from Crusaders on a three-year deal before the 2012 season, has just signed an extension which ends by the end of 2015.
Now coach Francis Cummins to hail Kear's performance in both the club and the national squad.
"Elliot has done fantastically well this year and is continuing to improve," said Cummins.
"His performances in the World Cup have been most impressive and I expected as much after such a good season in Super League for him."