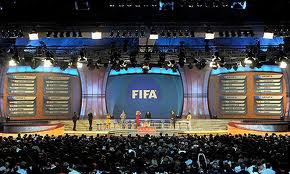 We know much more about the draw for the next World Cup. With 31 qualified out of 32 , the table is almost complete . And we already know the pots or caps. FIFA had already indicated that the draw will be made according to the FIFA's October rankings for equality among nations .
Thus, the first 7 of the FIFA rankings and Brazil, the host country will be in Pot 1. France author of a reversal of incredible location yesterday against Ukraine is in the pot 3. It is in the same pot that are housed the 5 African nations qualified for the High Mass competition.
Nigeria, Algeria, Côte d'Ivoire, Ghana and Cameroon are sure not to cross in the group stage. The draw will take place on December 6.
Here is the composition of pots:
Pot 1 (seeded)
Brazil, Spain, Argentina, Colombia, Belgium, Uruguay *, Switzerland
Pot 2
Netherlands, Italy, England, Portugal, Greece, Bosnia, Croatia, Russia
Pot 3
Ghana, Chile, Côte d' Ivoire, France, Algeria, Ecuador, Nigeria, Cameroon
Pot 4
USA, Mexico, Costa Rica, Honduras, Japan, Iran, South Korea, Australia
* Uruguay will play their second leg against New Zealand tonight (first leg 5-0)