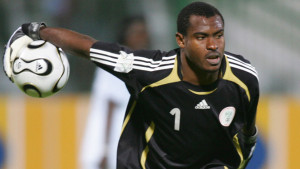 Vincent Enyeama could not break former Bordeaux goalkeeper Gaetan Huard's record of 1176 goalless minutes.
The Super Eagles goalkeeper of Lille was sadly stopped today (Sunday) in the 17th match of Ligue1 against the Girondins at Chaban-Delmas. Ironically, it is one of his teammates who deceived him.
They played the 26th minute. While he has already made some awesome stops and reassured his defense in this match, Enyeama was found powerless to stop the shot from Cameroon's Landry Nguemo. While Enyeama was well placed to stop the ball, it got deflected by defender Simon Kjaer into the net.
Enyeama has finally stood for 1061 minutes without conceding a goal in Ligue 1 with just 115 minutes from Huard's record.
Africa Top Sports is sorry for Enyeama.