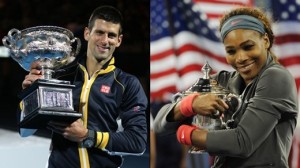 The International Tennis Federation (ITF) has unveiled the identity of winners for the price of tennis world champion of 2013. If women's World No. 1, Serena Williams flew over debates this year, in the men's draw Novak Djokovic, World No. 2 in the ATP is ahead Rafal Nadal (No. 1 worldwide), author of an impressive return to the circuit- for his regularity in the majors. This duo (Serena- Djokovic) was already on top of the tennis world in 2013.
This is the fourth time Serena Williams (32) is honored the price of world champion single ladies tennis. Winner in 2013, World No. 1 logically succeeds to herself as she flew over the WTA circuit. Winner of two Grand Slam trophies (Roland Garros and the U.S. Open ), bringing her number of titles in this category to 17, the youngest of the Williams sisters, Queen of prize money won in total 11 tournaments this year, including the Istanbul Masters. She displays a record of 78 wins over 82 games. A domination that allowed her to regain the chair of World No. 1 after 2009.
While people consider her 2013 season as the best in her career, the best player of the year had confided that she can do even better! This surely intended to intimidate challengers like Sarra Errani and Roberta Vinci elected champions of the world of Women's Doubles for the second consecutive year.
If there had been no Rafael Nadal, the ATP Tour in the men's singles would resume to Novak Djokovic (26), elected for the third time in a row as the world champion in men's tennis. Stripped of his title of World No. 1 by the Monaco Bull, Nole is nonetheless one of the male patrons in the men ranking. The Serb, who won the Australian Open (for the 3rd time in a row) was present in the last four of the three Grand Slams (Australian Open, semifinalist at Roland Garros and Wimbledon finalist). This year, Novak Djokovic played 76 ATP games for 67 wins. He won seven tournaments including the Masters in London. Unbeaten in seven games , Davis Cup final lost against Croatia, Djokovic, unbeaten on the final stretch of the season online, outclassed Nadal for the title of world champion in 2013 because of his regularity "It is an honor to be named ITF world Champion for the third consecutive year. I had a great season in 2013, and managed to finish the year on a high note," he said.
All winners will receive their awards on June 3 in Paris. The full list here.