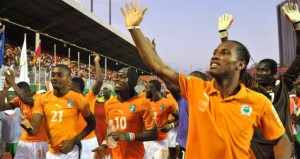 Côte d'Ivoire maintain their crown in the new FIFA / Coca Cola ranking. Elephants are always the first African nation and are ranked 17th worldwide. Ghana ranks second (24th worldwide). The top 3 is completed by Algeria (26th worldwide).
Nigeria who also qualified for the next World Cup are ranked 4th in African (the World's 37th) ahead of Cape Verde who complete the Top 5 (world 39th).
Cameroon of Samuel Eto'o who will also be part of the Brazil World Cup are ranked African 9th and 50th worldwide.
The strongest African growth this month, Seychelles climbed 24 rows finishing 46th in African and 176th in the World.
Here are the top 10 Africans
1 – Ivory Coast 17th
2 – Ghana 24th
3 – Algeria 26th
4 – Nigeria 37th
5 – Cape Verde 39th
6 – Egypt 41st
7 – Mali 45th
8 – Tunisia 48th
9 –  Cameroon 50th
10 – Burkina Faso 53rd