In carrying out his fourth triple-double in his career, Nicolas Batum was undoubtedly the most prominent African of the night in the NBA. The Franco – Cameroonian winger allowed Blazers to win again against the Magic of Victor Oladipo.
The other magician in the League is Toronto GM Masai Ujiri, enrolled to rebuild the Canadian franchise; the Raptors manager makes decisions that allow the organization to get positioned already for the playoffs with a record in the balance thanks to victory against Detroit (17v, 17 d). There was no African in turning of Minnesota beaten by Phoenix. Andre Iguodala and the Warriors saw their winning streak come to an end at the Barclays Center. Achievement by the Afros on the court that night.
San Antonio -Dallas: Spurs win the Texas derby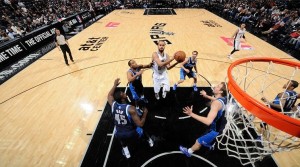 After losing to Knicks to start the year, San Antonio concatenate victories. Opposed to their neighboring Texas, Spurs, led by Tony Parker, have emerged 112-90. Discrete at Memphis, the French leader finished top scorer of the match with 25 points plus 7 assists. Present in the five major, Boris Diaw has fulfilled all his columns with 6 points, 5 rebounds, 6 assists, 1 cons and 1 interception. Dirk Nowitzki (8 pts, 5 rebounds) and Dallas Mavs were smothered by the aggressive play of the teammates of Tim Duncan (16 pts, 13rbds). San Antonio won their third straight game and taking anew the lead of the Western Conference (28v, 8d).
[youtube]http://www.youtube.com/watch?v=GRDL7vuI-RQ[/youtube]
Atlanta- Indiana: Philips Arena fails to Pacers
Indiana could not find the solution to win at the Philips Arena. The franchise with the best record in the league (28v, 7d) leaves head down at the Atlanta room since 2006. The end game scenario has not changed that night for Ian Mahinmi (4 pts, 3 rebounds) and co. Despite the 28 units and 12 rebounds by Paul George, the Pacers bowed for the 12th time in the Hawks room. With five players in double figure, Atlanta has defeated the leader of the Eastern Conference, 97-87.
[youtube]http://www.youtube.com/watch?v=hxADUYb6TQQ[/youtube]
New Orleans-Washington: Wizards know how to travel
The Pelicans of Al- Farouq Aminu (4 pts, 5 rebounds, 2 assists, 3 cons) suffered the good performance of Wizards far from their base. Thanks to 21 points and 10 rebounds by Travor Ariza , Washington dominated the New Orleans, 96-102. This is the sixth victory of the Wizards over their last eight away matches. Alexis Ajinça was tenured in the Pelicans. He played 15 minutes with a stat line of 6 points, 6 rebounds, 2 assists and 1 against.
[youtube]http://www.youtube.com/watch?v=AFYi8ArZwU0[/youtube]
The other results of the night
Toronto -Detroit: 112-91
Brooklyn -Golden State: 102-98
Minnesota –Phoenix: 103 -104
Houston -LA Lakers: 113-99
Portland -Orlando: 110-94
LA Clippers -Boston: 111-105.