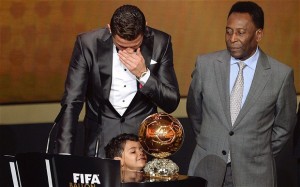 Lionel Messi has not clinched his fifth Ballon d'Or. At least this year! Cristiano Ronaldo has just won his second Ballon d'Or!
It was a very moved Cristiano Ronaldo shedding stears after being bestowed Monday the second Ballon d'Or of his career. The Portuguese striker of Real Madrid won with 27.99 % of votes, followed by Lionel Messi (24.72 %) and Franck Ribéry (23.36 %).
The man with 400 career goals did not hide his joy. He dedicated this second coronation to his family who had traveled to Zurich, his fiancée, the lovely Irina Shayk, and Mandela.
"I have no words to describe this moment. Thank you to all my teammates at Real Madrid, the Portuguese selection, my family. This is a huge honor. Thank you to my President and all those present. They know the sacrifice demanded to win a Ballon d'Or … I also want to talk about Eusebio and Madiba (Mandela), and my fiancee and my son. It is a moment too emotional for me, I cannot say anything. I apologize to the people I've forgotten.
It is a very emotional moment for me. Especially when I saw my mom crying. It is really a very important moment, which I share with my teammates of Real Madrid. They are the ones who have contributed to what I get tonight. This trophy is for them and for the club too. Because we gain nothing by oneself.
In 2008, it was important because it was the first. But tonight, there is surely more emotion. My mother is here, my son also. That is why I am very proud to have won this Ballon d'Or, although Ribery deserved this trophy as much as me because he had a great season as well as Messi."
Lionel Messi, the Argentine was quick to congratulate his rival of Real Madrid!
"I want to congratulate Cristiano because he won and he deserves it. There is nothing to say. I think it was a good year for all three. I have nothing to claim, or any excuse to forward. I do not know if it would be different without my injury. I've been away, that's true. Cristiano got to win."
Zlatan Ibrahimovic , the Swedish of PSG who won the Puskas Award for the best goal, honored CR7 ! "I am very happy with him. He deserves it."
Michel Platini however has criticized the awarding of the Ballon d'Or to the Portuguese! "I am very disappointed for Franck Ribery. So next year, we will return and it will be Ronaldo- Messi , and then in two years Messi-Ronaldo, three years later Ronaldo-Messi ? For 50 years, the Ballon d'Or has counted in the track record in the field. Here it is rather based on the overall performance of the players, and it is a problem. Although Ronaldo is a great Ballon d'Or. There is a little thing that has changed in the Ballon d'Or since it is bestowed by FIFA."
Franck Ribery who quits upset to finish third, refused to meet the press! No fairplay!
The balance of the year weighed priori in his favor: Ribery won five competitions with Bayern including the last Champions League, the Bundesliga and the last World Club Cup in Morocco