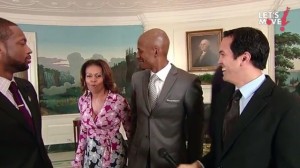 Miami Heat was hosted by the U.S. President Barack Obama on January 14 at the White House. Very involved in the fight against obesity through "Let's Move" campaign, which encourages children and adolescents to practise sport, Michelle Obama has tried basketball during the visit of the reigning NBA champions.
While Ray Allen, Dwyane Wade and Erik Spoelstra coach mime an interview, LeBron James and the first lady of USA mime a videobombing with a dunk of the first lady.
Here is the nice video!
[dailymotion]http://www.dailymotion.com/video/x1a2e1k_le-dunk-de-michelle-obama_news[/dailymotion]