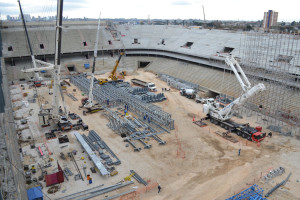 Jerome Valcke, the secretary general of Fifa, currently in Brazil for evaluation, is not at all pleased with the progress of the renovation of the stadium Arena da Baixada of Parana, chosen to host matches of the next world Cup. At a press conference, the French did not mince his words, even threatening to exclude the stadium from the list of venues selected for the competition.
"We can organize games without stadiums, it is an emergency situation that Curitiba is not found excluded from the Cup. The question is tricky. Let's be frank and direct. As you know, the current situation of the stadium is not satisfactury, " said Mr Valcke before stating the reasons for his dissatisfaction.
"Not only it is very late, but also it escapes any good timing reset by the FIFA. It's not that we wanted to see the stadium ready on February 18, but we want to see progress at the next evaluation visit. We hope that the conversations we had with the state government and the city of Curitiba yield results, so that the city is not found excluded from the competition. "
The Joaquim Américo Guimarães stadium, popularly known as the Arena da Baixada , is a football stadium located in Curitiba, Brazil . The stadium belongs to Clube Atlético Paranaense who play their home games therein. From 2005 to 2008, the stadium was the first in Brazil to adopt the practice of naming and then was called Kyocera Arena.