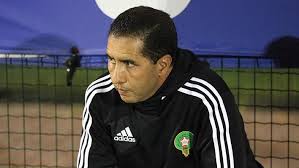 After qualifying for the quarterfinals of the 2014 CHAN, the Atlas Lions are in full preparation for the game against Nigeria scheduled to take place January 25, 2014. Benabicha Hassan and his men who were excellent facing Uganda in the last group game, now seem free from pressure.
With confidence that the selection of the Kingdom of Morocco are preparing to pick up their ticket to the final four of the competition, the national coach of the Atlas Lions said he does not fear the Super Eagles. The Moroccan technician has the solution to drop Stephen Keshi and his Eagles considered favorites of CHAN.
"We started badly the African Nations Championship 2014 with two draws, but we took our momentum at the right time and we look forward to tackle the quarterfinals now. We know what to expect against Nigeria, we will enjoy four days off to prepare for the meeting and study all aspects of the game," said Benabicha before continuing admitting that his team creats plenty of scoring opportunities. "I work a lot to improve efficiency before the goal," he said about his offensive line, more prolific over the games.