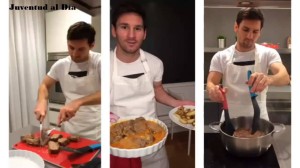 Lionel Messi, FC Barcelona star is super talented with his feet. He is considered as the best player in the world today with Cristiano Ronaldo.
He makes now the buzz as a cook!
He posted the photos on his Instagram.
He indulged into cooking meals with flavor and passion.
An unknown passion?
No it is a bet! "I lost a bet, so I have to cook"
But in fact what was the nature of the bet lost?
Watch the video – here –