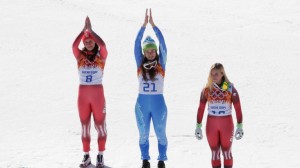 Unheard of! The women's Alpine skiing downhill could see a second spot as both Switzerland's Dominique Gisin and Slovenia's Tina Maze clocking the same time down to the last hundredth of a second, shared the gold medal.
Without a second spot, another Swiss Lara Gut sealed third berth with bronze medal around the neck.
The two gold medalists clocked each 1min 41.57sec down the 2.7km-long.
This is the first time Alpine skiers share gold at an Olympics.