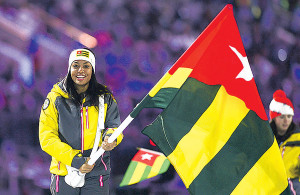 This is the big day for all Togolese. This small country in West Africa will see its first athlete to compete in the Winter Olympics Games in Sochi on Thursday in Russia. Amivi Mathilde Petitjean, one of the two representatives of the "Land of our Forefathers" competes in the classic cross country 10km ladies.
Petitjean was initially set to begin her competition last Tuesday but could not make the clock needed to participate in the sprint. So she set an appointment today to his fans: "It does not matter. I give you an appointment for my fansThursday, February 13th at 11am (ET France) for the 10 km with the world's best athletes which looks very hard," she has said on her Facebook page.
Appointment at 11h 00 GMT.