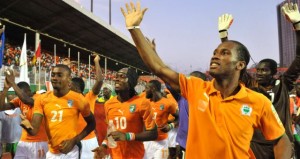 FIFA (International Federation of Association Football) has issued its global ranking of February. If Côte d'Ivoire still dominate this classification in Africa, they lost positions globally. Elephants tumble 6 ranks and now occupy 23th spot .
Change also of the continent No. 2 as Algeria is now 2nd in Africa and 26th worldwide. Cape Verde on the podium of the continent with a 27th spot worldwide.
Ghana who also qualified for the 2014 World Cup are 4th in Africa and 37th worldwide. Respectively after Egypt (38th), Tunisia (45th) and Cameroon (46th).
The African Top 10 is closed by Burkina Faso (62nd) behind Nigeria (African 8th and 47th worldwide) and Mali (9th and 59th).
Here is the African Top 20 in FIFA rankings
1 – Côte d' Ivoire
2 – Algeria
3 – Cape Verde
4 – Ghana
5 – Egypt
6 – Tunisia
7 – Cameroon
8 – Nigeria
9 – Mali
10 – Burkina Faso
11 – Guinea
12 – South Africa
13 – Senegal
14 – Libya
15 – Sierra Leone
16 – Morocco
17 – Zambia
18 – Uganda
19 – Congo
20 – Gabon