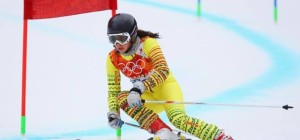 Progress for Alessia Afi Dipol (Photo by Doug Pensinger / Getty Images) during the second round of the women's giant slalom in Sochi. The Togolese ended her race in the 53rd position 1:31.14 (+13.24) against a time of 1:31.66 (+13.78) and a 60th place in the first round.
Best time of the 1st inning, Slovenia's Tina Maze, 30 years old, confirmed in the second retaining seven hundredths ahead of Austrian Anna Fenninger to clinch gold. This is her second title in Sochi after the descent and his fourth Olympic medal after silver in Super-G and giant Vancouver.
Germany's Viktoria Rebensburg, defending champion had the best time of the 2nd inning before Lara Gut (+0 "20) and Anna Fenninger (+0″ 31) but could just take pride in a bronze medal.
Alessia Afi Dipol therefore ends at the 55th position overall in 3:02.80 (+25.93). 74 athletes took the start, 67 finished the course.