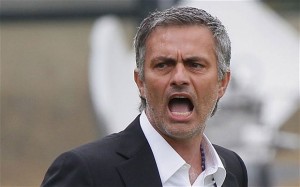 Invited to comment on the fate of the first knockout round of the UEFA Champions League between Manchester City and Barcelona, Chelsea manager José Mourinho, has not spared his absolute rivals in his past three seasons at Real Madrid (2010-2013). For him, Yaya Touré and his family are likely to win against a Barça that is no longer the one we knew.
"Obviously, for all that constitutes their history, Barcelona are favorite, but this season, they have shown that they are not the same as in recent years. Despite the presence of Lionel Messi, who is special, City will get a chance, because they'll have to clash the worst Barcelona for many years," he dropped.
A new challenge that may not be appreciated by the Blaugrana side that do not have either the Portuguese coach in their heart. After being rude to Manuel Pellegrini and mocked the balance sheet at Arsenal of Arsene Wenger, Mourinho has thus found a third opponent. Who's next?