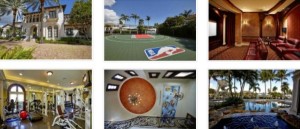 Life is not always golden for all athletes after their brilliant career. Scottie Pippen, former Chicago Bulls glory learns something about it. The former lieutenant of Michael Jordan was ruined and put his luxurious house for sale in 2010 for $ 16 million. Finding no takers at that price, Scottie Pippen is finally down to 11.8 million dollars. According to the website basketball-infos.com , Pippen has lost $ 12 million in the sale of his house.
After admitting in 2012 that he lived a difficult financial situation, Scottie Pippen was hired as Special Advisor to the President of the franchise Michael Reinsdorf.
"The talent and the unique experience of Scottie will enable him to add value to many aspects of our organization and we wanted him to reflect the best possible role with the Bulls", said Bulls CEO, Michael Reinsdorf .
Double gold medalist at the 1992 Olympics and 1996, Scottie Pippen (48) has played 17 NBA seasons, 12 with the Chicago Bulls.