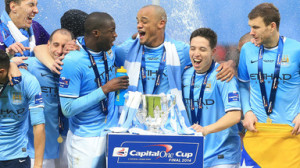 Can we say that Ivorian superstar Yaya Toure is victim of the color of his skin? That's sadly what Samir Nasri considers. Asked by Daily Mail on the current performance of his Ivorian teammate, the French international held dear to pay tribute to the African triple Ballon d'Or.For him, Yaya is the best midfielder in the World.
"If he was not African, everyone would claim he is the best midfielder in the globe. He can do everything including scoring goals, defending, attacking. When he won the Ballon d'Or, he became more powerful. I may seem a bit favorable to him as he is my friend but let us admit that he is part of the world's best midfielders. Being an Ivorian does not really help him. If only he was either Argentine or Brazilian, everybody would endlessly talk of him. And then club would be ready to disburse over 50 or 60 million Euros to enroll him," hinted the Algerian-born player.
Is he right or not? The answer to this question may provoke a heated debate. But the fact remains that the majority of Africans think like Nasri and ask the same question: Why, despite their talent, Drogba and Eto'o never got the Fifa Ballon d'Or?
Thomas Ngijol, Franco-Cameroonian actor raised the same issue two weeks ago talking about Samuel Eto'o.
 "It is sure that if Eto'o was called Etoninho, we would speak of him in a different way. He should have had a Ballon d'Or! He has won everything, he is one of the greatest strikers in the world," he said.