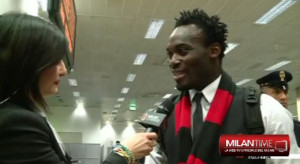 Michael Essien, chosen by Clarence Seedorf to occupy the midfield, will hold tonight against Atletico Madrid in the knockouts second leg of the Champions League.
The Ghana international will take the place of Riccardo Montolivo, suspended, to boost the defensive sector. The former Real Madrid player relies on the strength of the group to beat their opponent.
"Atletico Madrid has some tremendous assets and we look forward to playing this game tomorrow (Wednesday). What kind of atmosphere are we going face? I do not have a clue, we'll see tomorrow. In any case, this should not influence us, we need to focus on football, " said the midfielder of the Red and Black.