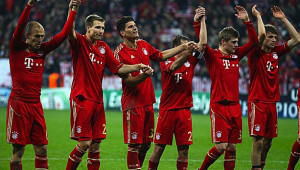 Arsenal have not lost but did not qualify for the quarterfinals of the European Champions League on Tuesday in Germany. Opposed to Bayern Munich, Arsenal have conceded a 1-1 draw, sadly enough to qualify after the 2-0 defeat in London.
Moreover, after an unchallenged dominance, Bayern Munich scores after the break by Bastian Schweinsteiger. If Arsenal did not wait long to return to parity by Lukas Podolski, they could not score three more goals to qualify.
Worse, they could concede another defeat if Muller had succeeded his penalty. 3-1 aggregated win for Bayern Munich and the German club is en route to try a Champions League trophy double. A feat that remains unachieved for 24 years.
[youtube]http://www.youtube.com/watch?v=Fz-uHOuME2s[/youtube]