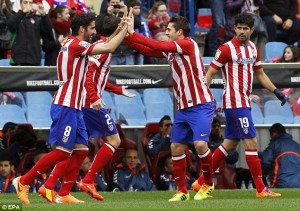 AC Milan have not achieved the expected feat in the knockouts second leg of the Champions League. Defeated in the first leg 0-1 in Italy, the Rossoneri have tilted again as they moved to Spain with the aim of stunning Atletico Madrid (4-1).
Very quickly, the Colchoneros show their desire to qualify for the next round of the tournament by opening the scoring in the 3rd minute by the inevitable Diego Costa. Milan is stunned but try to stay in the game by the equalizer of Kaka. But before the break, Arda Turan gives hope to Spaniards as he made it 2-1.
In the second half, Raul Garcia destroyed chances for AC Milan. But Diego Costa wanders back into the Milan defense to add a fourth goal to make his daily scoring a brace.
Final score across the two games 5-1 for Atletico Madrid qualified for the quarterfinals of the C1 after 17 years.
[dailymotion]http://www.dailymotion.com/video/x1gaflz_atletico-madrid-2-1-ac-milan-goal-arda-turan_sport[/dailymotion]
[dailymotion]http://www.dailymotion.com/video/x1gae22_atletico-madrid-2-1-milan-goal-turan-11-03-2014_sport[/dailymotion]
[youtube]http://www.youtube.com/watch?v=p_LBhNusjLE[/youtube]